The NFL new league year begins on March 13, 2019 in which teams will proceed to acquire free agents prior to the draft. Reportedly the Jacksonville Jaguars are looking to sign Nick Foles as he will be available after the Philadelphia Eagles decided not to hold on to the Super Bowl winning quarterback. As most people expected the Eagles are choosing to move forward with Carson Wentz as their starting QB even though Foles has done very well backing up the often injured Wentz the last couple years.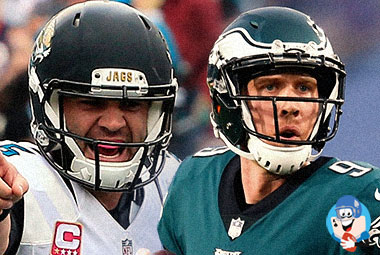 Blake Bortles has been the manageable starting quarterback for the Jaguars for the last 5 years in which he led the Jags to the AFC Championship game in the 2017/2018 season only to lose out to the New England Patriots. After a disappointing last year, it seems as if Jacksonville is looking to swap out Bortles for the quarterback that ironically beat Tom Brady and the Patriots in Super Bowl LII, Nick Foles.
Quarterback Market
The teams in need of a passer have shrunk now that the Denver Broncos picked up the veteran QB in Joe Flacco. John Elway and the Broncos most likely would have been interested in Nick Foles after deciding that Case Keenum was not the answer to their prayers, but they have fulfilled their needs in that department. Many other teams are going to need a different quarterback in the near future as many NFL active QB's are getting close to retirement.
Foles' College Career
Nick Foles played college football at Michigan State and eventually transferred to the University of Arizona. Throughout his time in college he racked up 10,068 passing yards and ended up with 67 touchdown completions. The Philadelphia Eagles drafted Nick Foles in the third round of the 2012 NFL Draft with the 88th overall pick.
NFL Career
As a back up quarterback to Michael Vick, Foles played about half the 2012 season after Vick was sidelined from concussion symptoms, but Nick ultimately broke his hand in the second to last game of the year and was placed on the injured reserve list as Michael Vick quarterbacked the season finale.
In 2013 Foles had 27 touchdown passes and only 2 interceptions surpassing Tom Brady's NFL record for TD – INT ratio. That year Nick had a record tying 7 touchdown perfect game. Only superstar players like Aaron Rodgers and Peyton Manning had finished a regular season with a better passer rating than Foles' season leading passer rating of 119.0. His superb season resulted in him making the making the 2014 Pro Bowl as an alternate, and he won the Pro Bowl Offensive MVP award.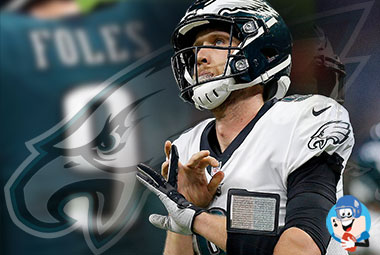 Nick Foles…
…was traded to the St. Louis Rams before the 2015 season for Sam Bradford as well as draft picks. He was benched after Case Keenum returned for injury, and when the Rams drafted Jared Goff with the overall first pick of the 2016 Foles requested and was granted a release from St. Louis.
The Kansas City Chiefs
In August of 2016 Nick Foles signed with the Chiefs to back up Alex Smith, and Foles played sparingly when Smith was out due to injury. Kansas City declined his second-year option making him a free agent prior to the 2017 Season.
Super Bowl Season
In 2017 Nick Foles was backing up Carson Wentz in Philadelphia until week 14 when Carson went down for the remainder of the season with a torn ACL. Foles stepped in and led the Eagles to win the Super Bowl, and Nick was crowned as the Super Bowl MVP.
In 2018 Foles had to step in for an injured Wentz once again, and he helped Philadelphia win another playoff game. This offseason the Eagles announced they would not pick up his $20 million option.
Free Agency
He will become a free agent in March, and it has been reported that the Jacksonville Jaguars are looking to sign him to replace Blake Bortles prior to the 2019/2020 season. The Jaguars have a solid defense and quality offensive players such as Leonard Fournette. Foles is a proven winner and may be able to take Jacksonville to their first Super Bowl in their history.

Author: David Green

Back to articles
Your feedback
Please enter your comment.
Your comment is added.