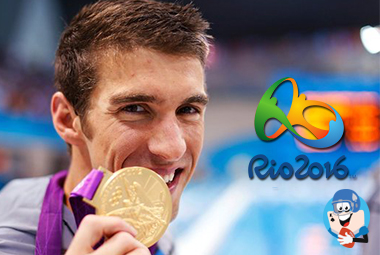 Michael Phelps was born in Baltimore, MD. His father was a Maryland State Trooper. He was only seven when he first jumped into a swimming pool.
Today the lanky, square-jawed swimmer is the possessor of 28 Olympic medals, most of them gold. He has won scores of international medals for his speed and stamina as a swimmer.
He is controversial, as his record with the police in Rio De Janiero at the 2016 Summer Olympics proves. And he loves playing big stakes poker.
He even gained a nickname from international poker great Antonio Esfandiari who calls him 'Fish Nuts.'
Michel has retired twice from competitive swimming. The first retirement in 2012 lasted only two years. He seems to be serious about his second retirement. He even got married to former Miss California USA Nicole Johnson on June 13 in Paradise Valley, AZ.
Since the incident in Rio, Phelps has been keeping a low profile. He reportedly has turned his attention to playing poker and it isn't for small stakes.
A poker friend says the Olympic Gold Medal winner regularly buys into a weekly game that costs him $25,000, a drop in the bucket for a celebrity who is reportedly worth over $50 million.
Phelps holds the world rcord for competitive swimming in the 200 and 200 meter buttrfly, as well as the 400 meter individual medley.
He was named World Swimmer of the Year seven times and American Swimmer of the Year nine times.
Sports experts claim he is superb as a record-breaking swimmer because of his lank body and his long arms which give him an extra push through the water.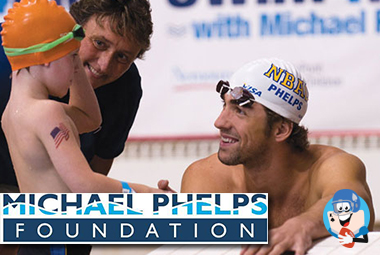 After being paid a $1 million bonus for his swimming ability, he started the Michael Phelps Foundation to promote swimming and a healthier lifestyle.
Before the highly publicized event at a restroom at a service station in Rio De Janiero earlier this year, Phelps went through two arrests for driving while intoxicated. He was also photographed smoking from a bong, for which he apologized, claiming he had disappointed many of his fans.
But Phelps does not apologize for his poker playing activities. He learned to play poker on-line and says he has made many life-long friends in poker rooms. He reportedly won $100,000 in a high stakes cash game in Las Vegas and made the final table in 2008 at the Caesar's Palace Classic tournament.
In May 2013, he entered a $5,000 buy-in event at the World Series of Poker in Las Vegas. And he has been seen playing poker at casinos in London, Las Vegas and Paradise Island in the Bahamas where he entered a $10,000 buy-in tournament called the PokerStars Caribbean Adventure.
I haven't yet run across Michael Phelps, the Golden Fish of Poker, in my travels. If I do, I'll be sure to let you know.
Author: Geno Lawrenzi Jr.
(Geno Lawrenzi Jr. is an international journalist, magazine author and ghostwriter and poker player who lives in Phoenx, AZ. He has published 2,000 articles in 50 magazines and 125 newspapers. If you want to share a gambling story or book idea with him, send an email to glawrenzi@gmail.com ).
Back to articles
Your feedback